Free Shipping on orders over $99
Tribulus is a supplement containing an extract of Tribulus terrestris herb that supports reproductive function and healthy libido in women and men.*
This herb is traditionally used in herbal preparations to:
Support healthy libido in women and men*
Promote normal menstrual flow*
Tonify and promote vitality*
Promote an overall feeling of well-being*
Tribulus contains an extract of Tribulus terrestris herb (aerial parts – leaves and stems) and contains steroidal saponins, mainly furostanol glycosides (including protodioscin and protogracillin) and small quantities of spirostanol glycosides, sterols and other compounds. This product is standardized to contain 90 mg per tablet of furostanol saponins to ensure optimal strength and quality. Protodioscin, a furanostanol saponin from Tribulus terrestris, is considered responsible for the plant's effects on libido and vitality.*
Tribulus Quality Story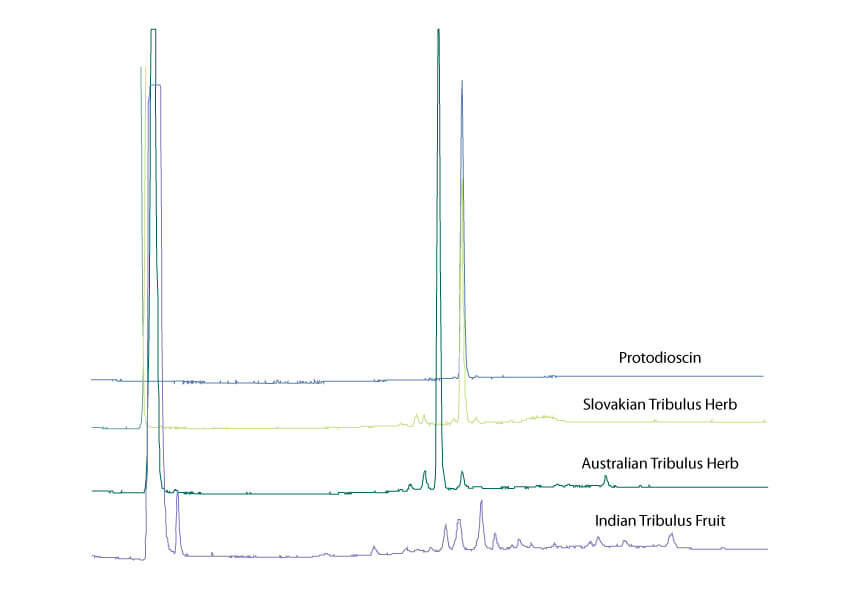 Tribulus terrestris is an herb which is endemic to many different geographical zones, from the Mediterranean regions, India, China, South Africa and Australia. Research undertaken by MediHerb has shown that the phytochemical profile of the herb varies depending upon the geographical origin and the plant part utilized. Only Tribulus sourced from the Central European regions of Bulgaria and Slovakia have been found to contain protodioscin, which is an important indicator of quality and efficacy. Additionally, only the leaves and stem of the plant contain protodioscin, the fruit does not contain this phytochemical. We have researched this herb to ensure that our Tribulus product is of the correct phytochemical profile to confirm phytoequivalence with the Bulgarian clinical trials and therefore optimal clinical outcome.
---
Suggested Use:
1 tablet 1 - 3 times daily, or as directed.
Caution: Not to be used during pregnancy and lactation unless otherwise directed by a qualified health care professional. For other contraindications and cautions consult your health care professional. Keep out of reach of children. Store in a cool, dry place out of direct sunlight.
---
Nutrients & Ingredients
Each Serving Size (1 Tablet) contains: Calcium 98 mg, Tribulus herb (aerial parts) 55:1 extract 245.45 mg (from Tribulus terrestris herb (aerial parts) 13.5 g, Containing furostanol saponins as protodioscin 90 mg). Other Ingredients: Dibasic calcium phosphate dihydrate, microcrystalline cellulose, croscarmellose sodium, sodium starch glycolate, hypromellose, silicon dioxide, and magnesium stearate.
---
For other contraindications and cautions, please refer to the Potential Herb-Drug Interactions Chart.
Please consult the actual product label for the most accurate product information.
*These statements have not been evaluated by the Food and Drug Administration. These products are not intended to diagnose, treat, cure, or prevent any disease.
Drs. Eric & Katie Snow have been helping people transform their health for over 16 years through their private practice Snow Holistic Health in Lake Charles, LA. Together, they wrote the best-selling book "Eat & Be Well: How to use food to Maximize Energy, Boost Brain Power, and Get Out Of Pain". They have been featured on Fox news, NBC and more.
Dr. Eric Snow, D.C. is a sought-after national speaker on such topics as weight loss, nervous system health, functional medicine, natural detoxification, disease prevention, and biblical faith teachings. He has appeared on national TV networks like FOX, NBC, and was also featured on "America Now".
Dr. Katie Snow, Pharm.D. has worked in all levels of pharmacy practice, including compounding, retail, surgery center and hospital. She has seen first-hand the effects of a body not being properly stewarded and the chronic disease that ensues, leaving an aftermath of strained caregivers and financial wreck.
You order will be shipped with in 2 business days of placing it.
We have a 30-day return policy, which means you have 30 days after receiving your item to request a return. To start a return, you can contact us at support@snowholistichealth.com